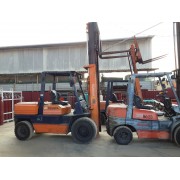 Please call us at
012-6087925

/

03-8052 2314
email:
james@jenpower.com
About Us:
Jenpower Sdn Bhd
is a forklift renting company that was established in year 2000.
Cover Area:
We are able to serve our customer in major industry regions, such as
KL, Klang Valley, Ipoh, Penang, Melaka, Johor.
Rental Option:
We are also offering different rental package to our customers depending on your needs.
Tyre of Forklift:
We also
Forklift with load capacity 2.5ton, 3ton, 5ton, 6ton, 10ton & 15ton Forklift
Why choose us:
1) We Have a Proven Reputation & Good Relationship with Famous Companies in Malaysia.
2) Our Operators Has Been Selected & Trained Intensively & Professionally in Various Field of Work
3) We Provide Good Conditions of Forklift That Undergo Regular Maintenance & Check-up. Our Breakdown Call Mechanic are Standby Anytime & Anywher.
4) We Offer Competitive Prices for Our Customer & Provide Optimal Services for All of the Project.
5) We are Always Deliver Forklift on Time.
We are specialize in:
~ Moving & Relocation Of Heavy Machinery
~ Rental & Sales of Forklift & Lorry Crane
~ Wooden Case & Vacuum Packing & Heat Treatment
~ Factory & Office Moving Services
~ Transportation Local & Oversea